January 2nd - 6th: Festival Montebelluna (Veneto, Italy)
The 4th edition of the Vergani Cup will once again take place at the small comune of Montebelluna, located approximately 50 kilometres northwest of Venice.
The main event will be a 9-round Swiss open for players rated 2200 or above. The time control will be 90 minutes for the whole game, with 30-second increments from move one. Double rounds are scheduled during the first four days of action.
Three strong grandmasters won the previous editions — namely, Azer Mirzoev, Richard Rapport and Samvel Ter-Sahakyan. Defending champion Ter-Sahakyan is currently the second seed among the registered participants, behind Russian veteran Aleksey Dreev, who arrives as favourite. Youngsters Jose Eduardo Martinez (Peru) and Anton Smirnov (Australia) are seeded third and fourth respectively.
Links
---
January 3rd - 26th: Women's World Championship 2020 (Shanghai/Vladivostok, China/Russia)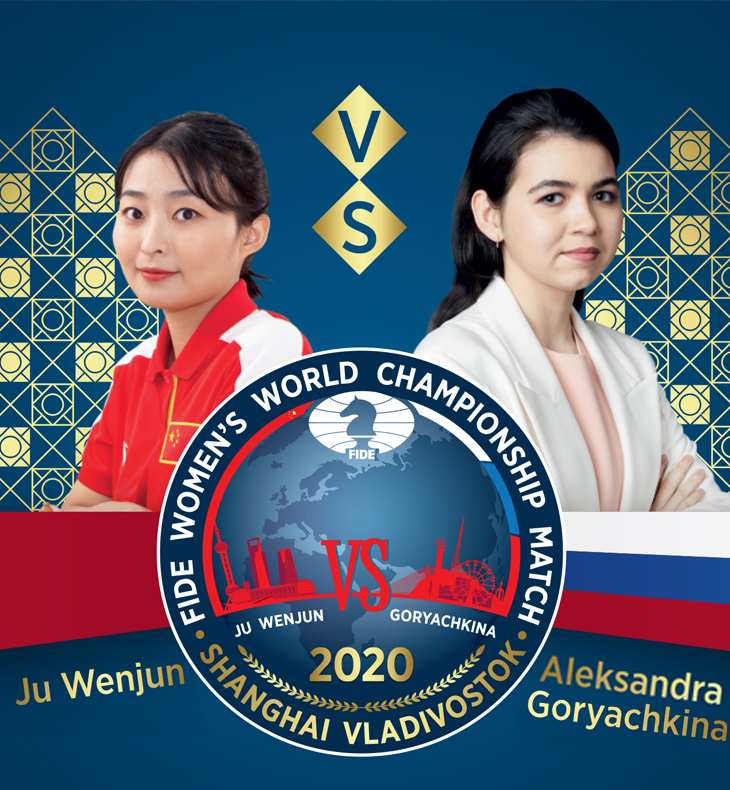 Women's World Champion Ju Wenjun and Aleksandra Goryachkina, the winner of Candidates Tournament, face off in a 12-game classical match to determine the next Women's World Champion.
The big picture as to who is the strongest female player in the world is far less clear than it is in the overall World Championship, where Magnus Carlsen is not only the title holder in classical, rapid and blitz simultaneously but also the highest rated by a wide margin in two of three disciplines. Both Ju and Goryachkina skipped the recent World Rapid and Blitz Championships to prepare for their match, which allowed Humpy Koneru and Kateryna Lagno to shine. Just 6 Elo points separate Ju from her challenger and, regardless of the outcome, either winner will still have a 60-80 point gap to world #1 Hou Yifan, who has opted out of women-only competition in recent years.
Links
---
January 10th - 26th: Tata Steel Chess (Wijk aan Zee, Netherlands)
The 82nd edition of the traditional Tata Steel Tournament will take place in Wijk aan Zee. The fifth round of the Masters will be played at the Philips Stadium in Eindhoven, as part of the Chess on Tour initiative that was introduced some years ago. All rounds are open to the public free of charge.
As usual, a Masters group and a Challengers group will be played simultaneously, each a 14-player single round robin with a nice mix of elite players and young talents.
The Masters will see world champion Magnus Carlsen returning for a sixteenth time, and will also include the latest challenger to the crown, Fabiano Caruana, and 16-year-old prodigy Alireza Firouzja. The full list of participants:
| | Name | Country | Rating |
| --- | --- | --- | --- |
| GM | Carlsen, Magnus | NOR | 2870 |
| GM | Caruana, Fabiano | USA | 2822 |
| GM | Giri, Anish | NED | 2776 |
| GM | So, Wesley | USA | 2760 |
| GM | Anand, Viswanathan | IND | 2757 |
| GM | Yu, Yangyi | CHN | 2753 |
| GM | Duda, Jan-Krzysztof | POL | 2748 |
| GM | Vitiugov, Nikita | RUS | 2747 |
| GM | Artemiev, Vladislav | RUS | 2731 |
| GM | Firouzja, Alireza | IRI | 2720 |
| GM | Xiong, Jeffery | USA | 2712 |
| GM | Dubov, Daniil | RUS | 2676 |
| GM | Kovalev, Vladislav | BLR | 2674 |
| GM | Van Foreest, Jorden | NED | 2632 |
Meanwhile, the Challengers will be stronger than those of previous years. These are the fourteen players that will fight for a spot in next year's Masters:
| | Name | Country | Rating |
| --- | --- | --- | --- |
| GM | David Anton Guijarro | ESP | 2686 |
| GM | Nils Grandelius | SWE | 2681 |
| GM | Pavel Eljanov | UKR | 2655 |
| GM | Rauf Mamedov | AZE | 2648 |
| GM | Surya Shekhar Ganguly | IND | 2644 |
| GM | Nodirbek Abdusattorov | UZB | 2633 |
| GM | Erwin l'Ami | NED | 2623 |
| GM | Nihal Sarin | IND | 2612 |
| GM | Jan Smeets | NED | 2596 |
| GM | Anton Smirnov | AUS | 2573 |
| GM | Lucas van Foreest | NED | 2531 |
| GM | Vincent Keymer | GER | 2518 |
| GM | Dinara Saduakassova | KAZ | 2505 |
| GM | Max Warmerdam | NED | 2501 |
Links
---
January 21st - 30th: Gibraltar Chess Festival (Gibraltar)
The Gibraltar Chess Festival has been held annually since 2003 at the Caleta Hotel in the British Overseas Territory south of Spain. The main attraction is the Masters, a 10-round open tournament that has been four times selected as the best open of the year by the ACP.
The Masters is already closed to new entries this year, with 212 players registered to participate, including nine elite grandmasters with a 2700+ rating. Maxime Vachier-Lagrave, Shakhriyar Mamedyarov and Wang Hao will arrive as top seeds.
The top fifteen of the entry list:
The previous edition was won by Vladislav Artemiev.
Links
---
January 25th - February 2nd: Moscow Open (Moscow, Russia)
The International Chess Cup Moscow Open 2020 will be held in Moscow from January 24th (the first day of arrival) to February 4th (the day of departure) at the Russian State Social University (RSSU).
The Cup consists of eight separate tournaments, with the main attraction the 9-round Swiss opens for men and women, which usually appeals to a host of strong Russian grandmasters. The time control in both events is 90 minutes for the game plus 30-second increments from move one.
Boris Savchenko and Anastasia Bodnaruk were the winners of the 2019 edition.
Links
---
January 25th - February 1st: Portugal Open (Lisbon, Portugal)
As stated by Stefan Löffler, the Portugal Open in Lisbon is an excellent chance to explore the Portuguese capital during the period when there are the fewest tourists and air carriers and hotels offer the lowest rates.
The 9-round Swiss open is included in the Portugal Chess Tour 2019-2020 and will offer the participants a chance to also play in a rapid tournament on February 2nd.
Currently, 15 players with a rating above 2400 have registered to participate, with Russian GM Alexander Motylev the first seed and nine strong grandmasters in the mix.
Links
---
January 27th - February 1st: Chess Houseboat (Kerala, India)
A unique event has been planned in South India at the outset of 2020 — a chess tournament on a floating house boat in the famous Vembanad Lake of Kerala.
The tournament itself will be a 10-round unrated Swiss with a time control of 20 minutes plus five seconds per game, spread over six days — two rounds per day in the mornings in five days with a complete rest day after six rounds, apart from the day of arrival and departure. It is conducted by 'Oriental Chess Moves Trust', an independent chess body of organizers and chess lovers.
The tournament carries a total prize fund of €5,000, with €2,500 in cash and €2,500 'in kind'.
Links
---