Ruslan Ponomariov:
Carlsen has stopped making progress as a chess player. I expected some innovations, some new interesting ideas, but that did not happen. Probably he needs a rival who can kick his ass. Right now he seems to feel that he is in a comfortable position and that he can beat his opponents if he plays as he currently does. And if this works, why should he try to improve and make extra efforts?
Karjakin fought well. Probably he wants to ask his team some questions about preparation. But with the experience he gained in the match he will definitely play much better in the next.
The only problem is that it's really hard to qualify for the another match in the current system of the World Championship. Whereas the World Champion does not need to do anything and can just wait.
Ruslan Ponomariov war vom Spiel des Weltmeisters nicht sonderlich beeindruckt
Congratulations to @MagnusCarlsen with defending the World Champion title. But you can and you should play better next time! https://t.co/9QmZluKWlt

— Ruslan Ponomariov (@Ponomariov) December 7, 2016
David Navara:
Before the match I predicted that Magnus would win two or three games and lose one. Such a result is also in line with the Elo-difference between Karjakin and Carlsen. But Karjakin prepared well, did better than I had expected and drew the match in the classical games. Magnus was not in his best shape but played stronger in the tie-break. I believe that his reign is beneficial for chess as he can attract sponsors around the world and help to popularize chess. He has also been the strongest player in the world for years. But Sergey deserves credit for showing that it is possible to play a match against Magnus on equal terms.
I am happy that the match was played in a correct atmosphere, without any conflicts between the players.
Some games were fairly interesting, whereas others were rather uneventful. I believe this can be attributed to the style of both players and to the importance of the match. The participants are playing for the result rather than for the audience. No one likes to lose. If you are looking for entertaining chess, you should better follow strong open tournaments such as the Qatar Open, the Tradewise Gibraltar Open, the Isle of Man tournament and the Aeroflot Open.
The classical part of the match was fairly balanced. But on the last day, in the tie-break, Magnus played clearly better and retained the title. Congratulations!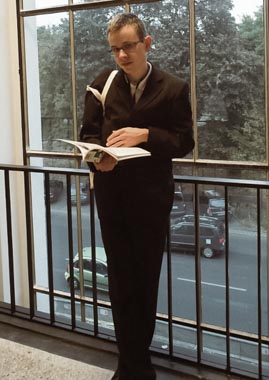 David Navara saw the Carlsen and Karjakin playing for the result instead of playing for the audience
Daniel King:
For me World Championship matches are still the pinnacle of competitive chess. I enjoy the psychological drama of a one-on-one struggle; I relish the way the match slowly unfolds - but then can turn in an instant on one bad move. This contest lived up to all my expectations.
We almost had a Russian World Champion. After winning game 8, and then coming so close in game 9, Sergei Karjakin will feel as though he let the crown slip from his grip. But how much had Karjakin's success (up to this point) been down to his own endeavour and how much the result of Carlsen's uneven play? More the latter. Carlsen had winning positions in games 3 and 4 but failed to capitalise. He could forgive himself for missing the tricky, study-like finish at the end of a long session in game 3, but he would have beaten himself up for blowing game 4 which was, to my mind, simple endgame technique. In game 5 Carlsen controlled play, but unexpectedly gave Karjakin a chance to attack - but draw anyway. Then in the fatal game 8 Carlsen played with only a forward gear - one could sense his growing frustration - and Karjakin bagged an unexpected gift.
In all these games Carlsen was the actor; Karjakin the reactor. Largely the same continued in the remaining games. Once he drew game 11 with Black, Carlsen's decision to head straight for the tie-break with a quick draw in the 12th was with hindsight a masterstroke. The Norwegian effectively gave himself an extra day to prepare for the rapid-play games - which he dominated. On the other hand, when the time came for Karjakin to stamp his authority on the match - in game 9 and in the tie-break - he could not deliver.
There were the usual howls of protests from disgruntled spectators - too many draws, too many boring games, too much opening preparation. It's the same in practically every single World Championship match I have witnessed. We have to view these one-on-one matches as a whole. There are usually patches of (subjectively) less interesting play interspersed with (subjectively) more dramatic play. Think of an opera - admittedly, I don't think very often of opera, but I believe the comparison is apt - the narrative needs to develop before your emotions soar with an aria. The match was tense, close and finished with a dramatic coup. What more could one ask from a sporting contest?
Mikhail Golubev:
In my view, the rapid tie-breaks were more interesting than the whole 12 main games combined. We have to accept that classical chess at the very top is normally boring, especially the match format. After all, only mistakes make nice combinations possible. Including the incredible Qh6+!!. Magnus Carlsen won the match with great difficulties but deservedly. Currently, he is still number one but his rivals are closer than before – which is reflected in the rating list.
Markus Ragger
It was a very exciting match with a lot of interesting moments. The quality of the games was high, particularly if you consider the enormous pressure of such a match. But I was surprised by the match strategy of both players. With a lot of draws Karjakin increased the pressure on Carlsen and eventually the World Champion took too many risks in game 8. With moves such 19. Nb5, 24. bc4, 32. Kh2, 33. Rd8 and, of course, 35.c5 Carlsen took very risky, double-edged and extremely daring decisions.
After that Carlsen appeared to be quite insecure. In game 9 Karjakin had a big chance to become World Champion (39.Qb3!). In game 10 Karjakin seemed to be very insecure and spent a lot of time for his moves 15 to 17. To catch up he played moves 20 and 21 very quickly and missed the chance to draw immediately. On move 56 Karjakin, lulled by Carlsen's subtle maneuvering, made the decisive mistake. This drama cost both players a lot of energy and led to two quick draws in the last games. In the rapid tie-break Carlsen played better chess and was psychologically superior. Throughout the tie-break he had an advantage on the clock and the better positions on the board. The move 50. Qh6 was a picturesque conclusion of a great match.
Karsten Müller
At the start of the match I saw Magnus as 60-40 favorite because of his endgame strength and his match experience. However, after missing wins in games 3 and 4 he lost his stride while Sergey got a boost by defending so well. After Sergey won game 8 I thought he was a 55-45 favorite because Magnus seemed to be so vulnerable and even left the press conference. But he recovered and after winning game 10 I thought he is favorite again - his strength in rapid games is well-known and showed in the tie-break. All things considered Magnus deservedly won because he had more chances. However, Sergey hold his ground - and much better than I had expected.
Dorian Rogozenco
It happened what was supposed to happen (which today is not always the case). I think Karjakin played too passive. In the tie-break games this strategy turned out to be a mistake. Karjakin's play in the tie-break is a little mystery for me: he had neither energy nor self-confidence. That is hard to understand because without self-confidence you have no chance at all. But the match also revealed some weaknesses of the World Champion, particularly in regard to preparation: we saw hardly any new and interesting opening ideas. And we saw that Carlsen can lose his nerve when the opponent defends stubbornly.
Martin Breutigam
I find it surprising that Karjakin after months of preparation could not surprise Carlsen in the opening. It is even more surprising that the match was tied after 12 games. But in the end the stronger and more creative player won. Carlsen's wins in the match and in the tie-break were impressive but I found Karjakin's constantly fair and calm attitude at least as impressive (particularly after his defeats or the missed chance in game 9).
The interest in the match all over the world showed that chess can fascinate millions of people. And one should definitely keep the 130-years old tradition of playing matches. However, to encourage offensive play and to reduce the chances for long series of draws it might be a good to change the format of the World Championship matches a little. I like the idea to play the tie-break at the beginning to let everyone know who has to play for a win in the games with classical time-control and who only needs a draw. But one should also increase the number of games again and play at least 14 games to give the players the chance to risk something without the fear to fall behind early in the match.
Arno Nickel
This World Championship quite obviously had more tension and less creative achievements - a tension which the spectators who followed the games live will have felt directly. But amazingly, the official transmission which went well without too many blunders and blah, also gave an idea of the tension, first of all thanks to an eminently eloquent commentator who for me will remain the real match-winner: Judit Polgar, particularly in interaction with Peter Doggers and Ian Nepomniachtchi. The background reports of Norwegian journalist Kaja Marie Snare are also among the refreshing highlights as they convey something of the bubbly local chess scene with its many facets.
Whereas Magnus Carlsen almost throughout the match was not in top shape, one had an opportunity to get a deep impression how strong Sergey Karjakin is in matches. But he disappointingly showed this strength only with brilliant defense and not in straightforward attacks right from the opening - which is absolutely incomprehensible in view of the strong support he received from his team. One sometimes thought that Carlsen 1 played against Carlsen 2.
In view of today's depth of theoretical knowledge I am very skeptical whether we will ever again see classical World Championship matches between players with a diametrically opposed approach to chess as we had them back in the 20th century. This would require the rebirth of a Mikhail Tal. My recommended remedy against boring draws: Chess960. Take two after a sequence of four draws.
Elisabeth Pähtz
An unexpectedly long match with a result that surprised me. All in all Carlsen was the better player, however, he missed too many good chances (games three and four) to make something tangible out of that. I was particularly impressed by Karjakin's defensive skills. But in the tie-break he seemed to have an off-day. Or Carlsen is simply too strong in this discipline.
Chess aspects apart, Karjakin showed good manners in New York – which Carlsen sometimes fails to show.
Yannick Pelletier
Magnus Carlsen retained his title. Some thoughts about the match:
Sergey Karjakin seemed to be very well-prepared, but not in the way I had expected. In fact, he was generally unimpressive in the opening, mostly because Carlsen's preparation in that field was superior. The Norwegian is the best player in the World, after all, and has a very strong team of analysts.
But Karjakin was mentally ready for the fight, ready to suffer for hours in difficult endgames. This ability to never give up and to always search for chances to save the game must have been trained intensively, probably with a mental coach. This extreme resilience helped him save games 3 and 4 and disturbed Carlsen, who became nervous and started underestimating his opponent. Was Karjakin, however, mentally ready to beat his opponent? Did he forget to switch into "favorite mode" after taking the lead in game 8? By hindsight one always knows better. This great theory would have been ridiculous, had Karjakin seen Nxf2 in the 10th game and if he had kept his lead until the end.
Carlsen may not have been in great shape, but Karjakin undoubtedly provoked that. What counts in the end is the result. The quick draw with White in the last classical game, however boring it might have been, proved to be a great decision by the Norwegian. He dominated the tie-break and thus deserves to keep his crown.
Herbert Bastian
Carlsen did not use his chances in games 3 and 4. This upset him and he pushed too hard in game 8 when he wanted to win at all costs. That this might happen became already apparent in game five, in which Karjakin could have reached a clearly better position. In game 9 Carlsen again tried too hard but Karjakin failed to find the decisive Qb3 (instead of Bxf7+). From game 10 onwards and in the tie-break it showed that Karjakin is not yet ready for the title. He plays very well and disciplined but too tame and in crucial moments he lacks the killer instinct Carlsen has in excess. Carlsen displayed much more creativity and won deservedly. The match received an extreme amount of attention in the media and was beneficial for chess as sport. A view into the future: there are a number of candidates who might challenge Carlsen in 2018: Caruana, Vachier-Lagrave, So, Giri, Karjakin, Kramnik, Aronian, Nakamura, ... . Let's look forward to it!