Women's chess in India – myths and facts
By IM Nisha Mohota ...
... with contributions from my Woman Grandmaster friends of India who have struggled their way to success and have brought many laurels for our country.
West Bengal got its first grandmaster (GM) in the form of Dibyendu Barua in the year 1991. However the state had to wait twelve more years before it got its first Woman Grandmaster (WGM) – I became the first WGM of Bengal in 2003. Mary Ann Gomes became a WGM in 2008. Today Bengal has six GMs but only two WGMs. Mary and I are eagerly waiting for the next WGM from our state.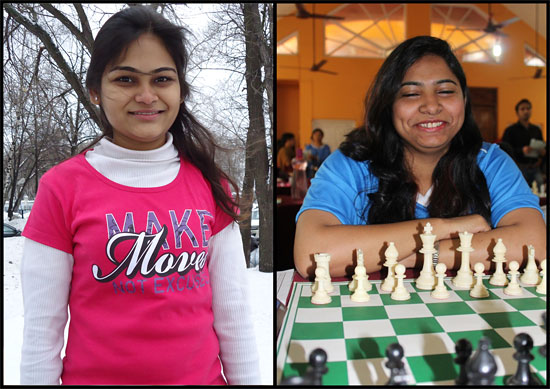 Nisha Mohota, the author of this article, and Mary Ann Gomes,
three times Indian National Women Chess Champion
What is it that stops young girls from taking up chess in our state and also in the rest of India? Why is it that in an open chess tournament the participation of female players can be counted on our fingers? Why do young, talented girls drop out of chess at a young age and enter into academics? For this we need to understand some facts about chess and the problems faced by women players.
The myth goes that chess is only a mind game. Physical fitness does not count. However, this is far from truth. Yes, chess is a mental gym. One has to use full mental energy to fight out the battle on the chess board. But is mental strength and intellect enough? No. Most of you will be surprised to hear that chess requires complete physical fitness. Physical stamina and strength are essential for proper functioning of the brain during the five to six stressful hours that one has to sit at the chess board. No wonder World Champion Magnus Carlsen plays football or goes to a gym to 'relax' on rest days during chess tournaments!
As of today, men play chess better than women. But does that mean they are more intelligent? No. In academics, girls have proved themselves to be as good as or even better than boys. So, what makes chess different? First of all we must agree that nature has made men and women different. Let's respect each others' differences. We can see the difference between a girl and a boy from early childhood. When young boys meet, they love to push each other, fight – this is all fun for them. Ever noticed how young girls behave when they meet each other? They make each other comfortable, smile, laugh, talk, but they normally do not indulge in physical fight. So we see that the fighting spirit required in the game of chess comes naturally to men whereas the peaceful women have to go the extra mile to inculcate this fighting spirit in themselves.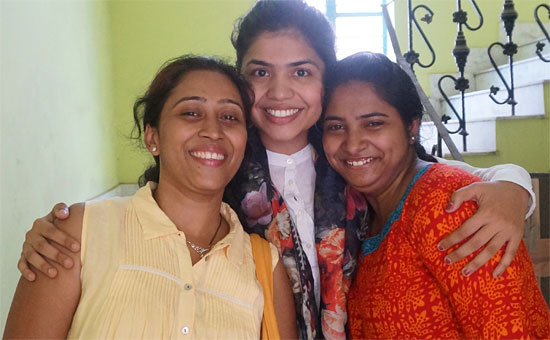 Women always make each other comfortable: Swati Ghate, Soumya Swaminathan, Mary Ann Gomes
There is a theory that women are inborn nurturers. Nature has made women very soft and caring. However, every woman chess player knows that she has to become tough to excel in chess. They say chess is a gentleman's game. Yes, chess players are very good human beings off the board, but trust me, a very average human being cannot excel at chess. One has to be extra sharp and clever on the board, one has to be a bad guy on the board – completely ruthless. Most male players have two personalities: they are a great human being off the board, complete gentlemen, but on the board they do not spare anyone. Normal women find it difficult to keep double standards. They always have soft corners for people and being ruthless doesn't come naturally to them. So we see that a girl has to develop instincts which are not natural to her. She has to make extra efforts to develop that killer instinct which a boy has very early on, and he mingles in similar company. Do I mean to say that women cannot develop these qualities to play good chess? Of course they can, but they do so with effort, acting against what nature has made them. These are the characteristic traits which make girls different from boys from an early age.
People often ask me: "Why are there less women chess players compared to men?" For this one needs to understand the problems faced by women.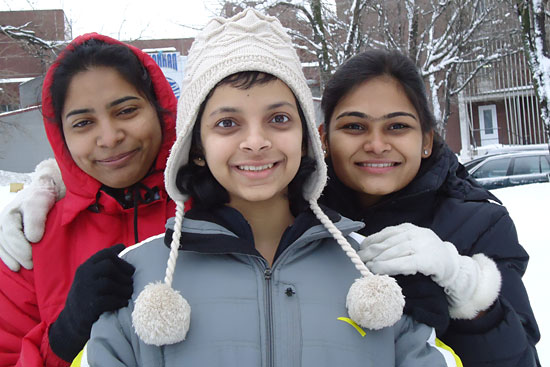 India's National Women Chess Champion, Padmini Rout, (above middle, flanked by Mary Ann Gomes
and Nisha Mohota) feels that travelling and training are issues for young girls.
Padmini has very recently started travelling alone and her parents are updated by phone.
Problems faced by parents: the biggest problem faced by women chess players is travel. Due to societal conditions in India, girls cannot travel alone to tournaments. It is unsafe. A parent always has to accompany her. The parents of a male chess player normally let the kid out alone very early, but the parents of a girl feel insecure about leaving their daughters alone in this cruel world. Young girls miss a lot of opportunities because they cannot travel alone. I have seen that most parents accompany their daughters to tournaments. This adds to their financial burden. All of us have seen India's best woman player Koneru Humpy always accompanied by her father.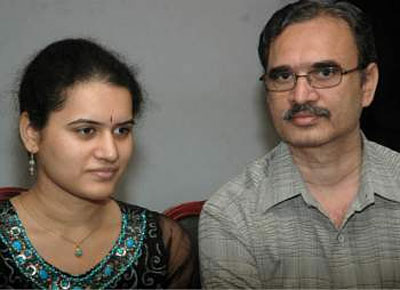 India's highest rated female player GM Humpy Koneru
with her father Ashok Koneru [picture Sportstar magazine]
The other serious problem faced by parents of a girl child is the problem of coaching. For a young girl to take coaching from outsiders is definitely not easy, so it is normally the immediate family member who takes care of her training. India's first WGM, S. Vijayalakshmi, India's best woman player Koneru Humpy and I have all been coached by our fathers. But not everyone's parents know chess. There are almost no women coaches because after an active career a woman feels the need to care for her family, and this she feels is more important than status or money. Safety and security is always an issue when inviting male coaches, adding to the problems of the parents.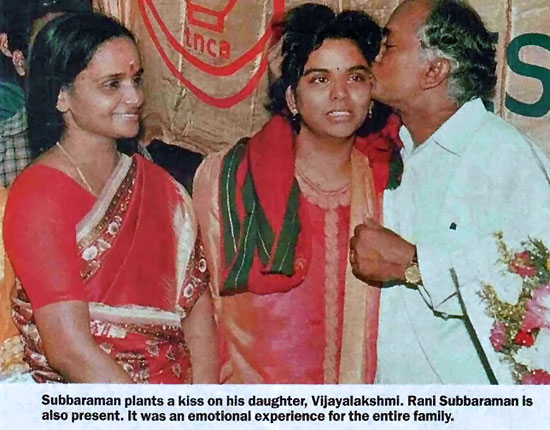 A moving photo in one of India's leading newspapesr, The Hindu, after Vijayalakshmi
became India's first WGM. Viji's late father was her only coach throughout her career.
When the parents of a girl child bring up their daughters in spite of the many problems, they still do not get their due respect from the chess fraternity for their contribution.
Differences in prize money: the prize money in women's tournaments is always less than the same in men's tournaments, whereas the expenses connected to a female chess player is double. Is this not a big burden on the parents? Take for example my very own state. There are cash prizes in State Championship for men whereas only mementos are awarded in State Women Championships. Did someone say playing chess does not require money? Trust me, it is one of the costliest sports today – huge expenses in coaching, travelling, hotels, not to mention participation in international tournaments. In fact, coaching expenses for chess are almost the same as tennis! However we still continue to believe that chess is one of the most economical sports around.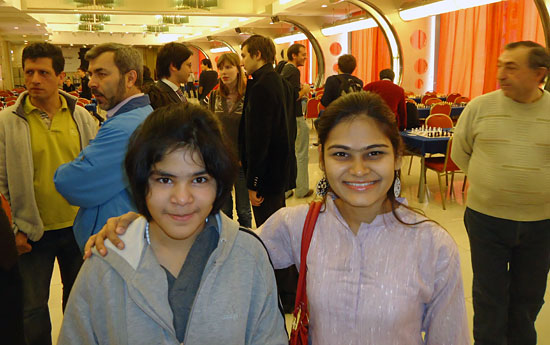 Nisha with India's upcoming youngster Ivana Maria Furtado, who is also always accompanied by dad
Jobs: being a sportsperson in India has become quite a privilege in the past few years, as the government and Public Sector Undertakings have warmed up to us in a huge way. Besides the Government of India, many PSUs and banks have started recruiting elite level sportspersons as employees in the last threedecades , as an encouragement to sports in our society. This served as a huge boost towards our careers, and Indian chess has been booming over the years! However, in recent times the number of players inducted by companies has grown smaller and smaller, and if we have to talk about top women players who have been recruited in the past decade – the numbers are quite insignificant! I wonder why women chess players are being discriminated against when it comes to sports recruitments, when in fact India is in the top ten countries in the world in women's chess!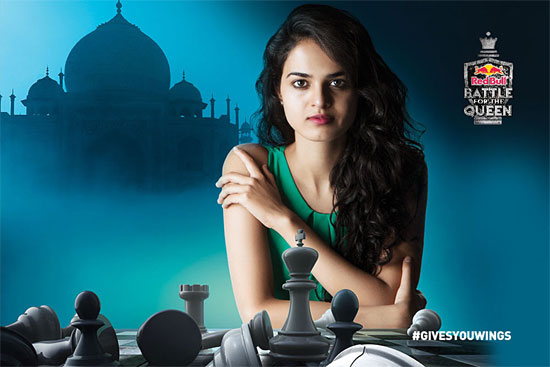 One of India's top women players, Tania Sachdev, recruited by Air India
Health, stamina, energy level: men are physically stronger than women. Women have less stamina which is an essential component in a long chess game. Women have health issues every month which brings unpleasant moments for most women and makes things very difficult for them.
Societal norms and caring attitude: Indian society has laid down rules about how a woman should be. She has to be very careful right from early childhood about what she does, what she wears, how she talks, literally every step by her is carefully watched by family and society. She is always careful about the dos and don'ts, thus curbing her carefree attitude and making her cautious at every step. Men never have to think twice about what they are doing in public places. If there are any issues between a man and a woman, it is always the woman who is considered at fault. Women are also very caring. Most young girls help their mothers in some way or the other in household work. Boys are normally able to use that time to focus on their careers.
Former World Junior Girls Champion, Soumya Swaminathan is one of the best souls that I have met!
She feels that in Indian society men and women should take equal household responsibilities.
Marriage, society, career, role models: every teenager starts thinking about career and future life when he or she is finishing school, around the age of fifteen. A girl foresees herself married at around 25 years of age. She understands that after marriage she will need a break from her active career for minimum three years: one year during childbirth and the next two years when the child really needs the mother. Making a comeback in a professional world such as chess, where like in science every day new discoveries take place, is extremely difficult. In addition a child almost always needs its mother more than the father, so leaving the kid alone at home is difficult and worrisome for the mother at any stage. For anyone who does not still understand my point of view, I would recommend the movie Mary Kom, which shows the struggle of a great Indian sportswoman. So, early in her teens, a girl understands that after all the hardships she will go through for success in her career, her future will still be very insecure.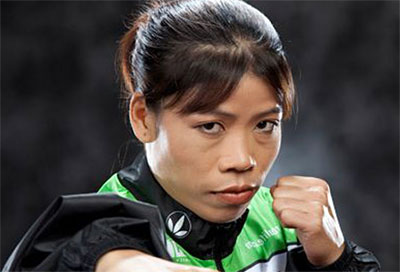 Mary Kom, the great Indian boxer whose achievements are
a big inspiration for women players of any sport
One of my coaches, Evgeny Vladimirov used to say that a man is in the peak of his career in his 30s when he is married and settled and can completely focus on his career. For a woman, it is just the opposite: time to pack up at 25! No man wants his wife to be out of their home for days to pursue her professional career. In India, marriage and childbirth are considered a woman's responsibility. Women are still seen as the ones who provide an anchor to the men in their lives, make the house a home and raise a family.When a man goes out to play in his tournaments, his wife packs his bag and assures him that everything at home will be taken care of. On the other hand, when a woman goes out to play in tournaments, she plans in advance for things at home before she leaves. Thus, a woman has to be efficient both at home and in her profession too.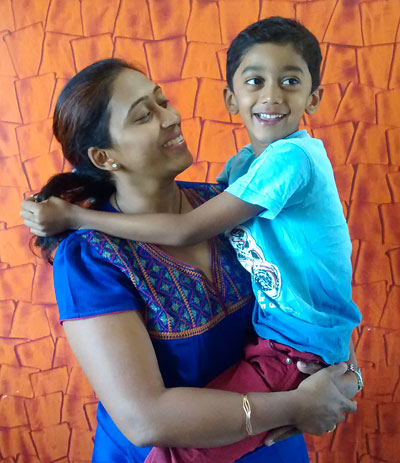 WGM Swati Ghate is a perfect Indian example of a successful chess player who balances her personal and professional life. Her five-year-old son, Aryan, always wants his 'Aai' (Marathi word for mother) around. Her husband, Amit, is very supportive and takes care of him when Swati goes for chess tournaments.
All these factors are scary for a teenage girl. She sees an extremely difficult life after a certain age: too many challenges, too little opportunity. It makes a talented girl think "Is it all worth it?" This is the reason for high dropout rates among female chess players at an early age. Very few women decide to remain tough and withstand all problems. Their minority makes it easier for the male gatekeepers to downplay them every time. Thus, young girls fail to find a role model for themselves. When I started playing chess in 1988, there were no WGMs in India. I had to pursue a dream to reach something no one had reached before. It is easier for a young girl to see a role model and visualise herself there after a few years.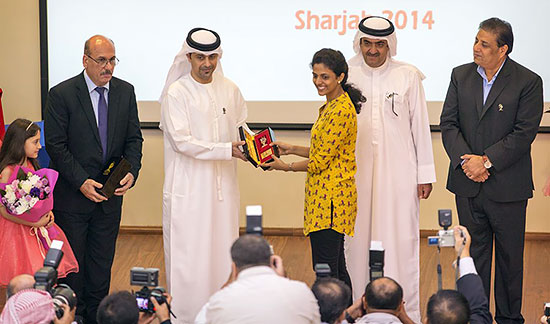 GM Harika Dronavalli, who won the World Junior Chess Championship in 2008,
receiving the bronze medal at the FIDE Grand Prix, Sharjah, 2014
Fighting out the men: in an open tournament there is a 10-90 ratio of participation of women to men. The ten women have to compete with the 90 men. If ten men out of 90 do better than the women, the other 80 also think that they are better than the women. Due to one Carlsen, every boy claims to be a Carlsen! At present male chess players are stronger and more numerous than women. But instead of developing a superiority complex, if they see this as an opportunity to encourage women players to do better and compete with them on an equal level, it will greatly benefit women's chess. There is disparity in prize money and conditions for women in open tournaments. The women prizes are ridiculously low, as if mocking the women. Grandmasters are given pocket allowance and often five-star accommodation, whereas women are made to stay in simple hotels, sometimes even unhygienic ones. No wonder the participation of women in open tournaments is becoming less every day.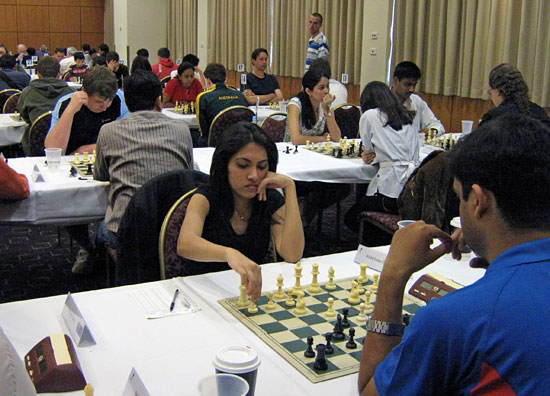 IM Eesha Karavade fighting it out against male opponents in an international open tournament
Anything which is rare is precious: women players who fight out in the world and make many sacrifices in their personal lives are rare. They should be treated as precious and with respect. It is time that men change their outlook towards women. If women had the same physical strength of men, minus the female complications, I am more than sure that they could be better in chess. Women are not mentally incompetent, they just have other issues which must be respected. Encourage the women players by making the prize money at par with the ones for men's tournament, provide good conditions so that there is a 50-50 ratio in all tournaments, and then let us compare results. If not for the woman who brought you up with care, you wouldn't be a wonderful human being, so open your eyes to the problems of women and treat them respectfully!
Pictures by Amruta Mokal and others
About the author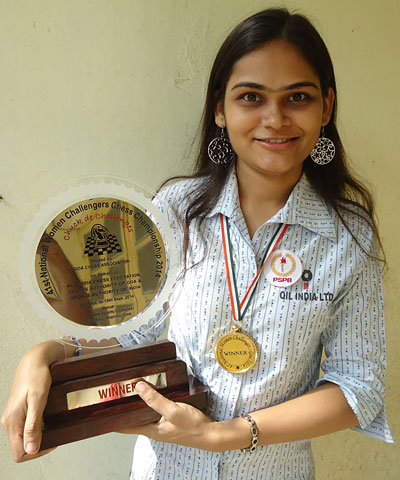 Nisha Mohota, born on October 13, 1980 in Hinganghat, Maharashtra, started playing chess at the age of seven. During the 1995 Women's Zonals in Chennai she earned the WIM title, at the age of 14 years 6 months and 13 days. This record of youngest ever WIM in India was only broken by Koneru Humpy in 1999. In August 2003 she became India's fourth WGM – after Vijayalakshmi, Humpy and Aarthie Ramaswamy. Since February 2011 Nisha is a full International Master. Her highest ever Elo rating was 2416 (in October 2007).