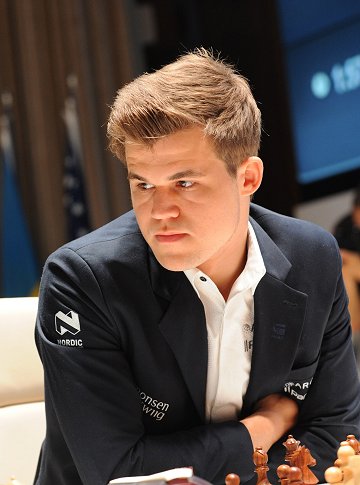 Magnus Carlsen was born in Tønsberg, Norway, near Oslo, November 30, 1990. He learned chess from his father Henrik at the age of five. At the age of eight Magnus Carlsen began competing in tournaments. When Carlsen's great talent became apparent, his family decided to take he and his sisters out of school, bought a motorhome, and set out on a multi-country road-trip for ten months travelling from tournament to tournament.
In 2004, Magnus Carlsen, as a thirteen-year-old, drew a rapid tournament game with Garry Kasparov and became known throughout the chess world. In the same year, he was the second youngest player in history, at that time, to win the title of Grandmaster. Garry Kasparov was later his coach in 2009 and 2010.
In 2010, Carlsen first became the highest rated active player and has held the number one spot since July 2011.
In 2013 Carlsen won the Candidates Tournament in London and went on to defeat Viswanathan Anand in Chennai later that year, to become World Champion. In 2014, he defended his title against Anand, and also achieved a new Elo record rating of 2882.
In 2016 he defended his World Champion title again, against Sergey Karjakin in New York, after a rapid tiebreak. In 2018, he defended it once more, in London against Fabiano Caruana.
Rating progress